DP-225
RESUME
OX-DP 225 is low foam high efficient surfactant developed by Jadechem. It's multifunctional copolymerized fatty alcohol polyether non-ionic surfactant, with great properties of defoaming, emulsifying, degreasing, dispersing, wetting and penetrating, stable in strong acid and alkali, with excellent water solubility and cleaning performance. Safe and environmentally friendly, it can be completely biodegraded, widely used in many industrial fields such as commercial washing, emulsifying degreasing, oil and rust removal on various hard surface.

CHEMICAL AND PHYSICAL PROPERTY
| | | |
| --- | --- | --- |
| Item | Index | Standard |
| Appearance (25℃) | Colorless transparent liquid | Visual inspection |
| Ionic type | Non-ionic | / |
| Color (APHA,Pt-Co) | ≤30 | GB/T3143-1982 |
| Water (KARL-FISHER,%w/w) | ≤0.5 | GB/T11275-2007 |
| PH value (1% aqueous solution) | 5-7 | GB/T6368-2008 |
| Cloud point (℃) 1% aqueous solution | 27-31 | GBT 5559-2010 |

PERFORMANCE AND APPLICATION
1. DP 225 has great wetting and penetrating property, the wetting and penetrating time is less than 14 seconds at 0.1% active substance content.
2. DP 225 can effectively remove and inhibit the foam, there is no foam when above 30℃ and at 0.1% active substance content.
3. DP 225 can be used for hard surface degreasing and quickly penetrating between oil and hard surface. Through emulsification and dispersion, remove oil from the hard surface.
4. DP 225 can be used as low foam cleaner in commercial washing industry, as spray cleaning agent, effectively inhibit foam of surfactant and effect last long.
5. DP 225 uses as commercial dishwashing rinsing agent (drier)

SAFETY AND ENVIRONMENTAL PROTECTION
Not flammable, non-explosive, non-toxic. It is irritant to the eyes and slightly irritant to the skin, can be completely biodegradable.

STORAGE, TRANSPORTATION AND MATTERS NEEDING ATTENTION
Storage and transportation according to the requirements of general refractory chemicals;
Sealed preservation, no exposure to sunlight or rain, 2 years guarantee;
Rinse with a plenty of water if this product touched skin or splashed into eyes.

PACKAGE
200 kg galvanized iron barrel / 120 kg large opening plastic bucket

NOTE
1. The above data conforms to international standards, national standards and product acceptance
specifications,
2. The above information is to help understand well this product, but not as the guarantee for
performance in use.

Foaming performance test
DP225 has low-foaming property and fast-defoaming ability.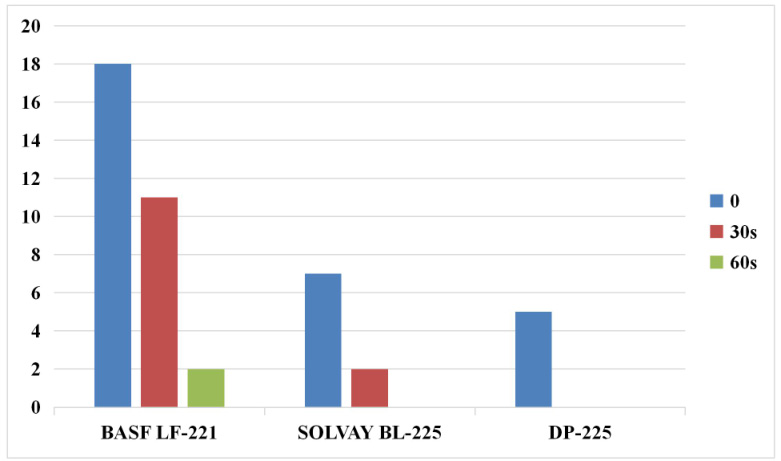 Wetting performance comparison

Emulsifying performance comparison